Cold Inflatables
---
Cold air inflatables


Mobile cold air Inflatables can be moulded perfectly to any size, shape or color with your company logo or brand name. These products with their larger-than-life image attract attention on advertising scene. Once spotted, they remain in people's memory for a long time.
Inflatables are an extremely effective tool for launching of new products. They're easy to install anywhere. You can pack them very easily and carry them wherever. Installation and deflation.
takes no longer than 30 minutes. These products are so durable that they can be used for many years.

Standard mobile cold air inflatable set includes:
envelope;
electric fan;
rigging elements;
a bag for envelope and appliances;
documentation;


---
Standart cold inflatables
Standard cold inflatable can be drop, sphere or cylinder shape, made of synthetic fabrics. The shape is kept by constant air pressure, supplied by 220v. low noise 300 w power electric fan.
Simplicity of xploitation makes it possible to use them in shows, exhibitions, celebrations and other events.
Cold air inflatables can be installed on horizontal surface or suspended. Standard cold air inflatables have two types of options for different exploitation conditions:
long time outdoor exploitation;
2. long time inside premises or short time (several hours) outdoor expl.

An article

Height / diameter (m)

Price, EURO

"Balloon"

PK-АТ 1,5

1,5 / 1,2

200

PK-АТ 3

3 / 2,5

300

"Drop-shaped"

PK-C/K 1,5

1,5 /1,3

200

PK-K 3

3 /2,6

500

PK-K 5

5 /4,3

900

"Cylinder"

PK-T2

2 /1,2

200

PK-T3

3 /1,5

450

PK-T5

5 /2,5

900

"Aeromen"

АМ-5

5/-

1500

АМ-7

7/-

2100

АМ-9

9/-

2700

Note: the price may be increased:

up to 40-70% for outdoor option;

complicated artwork;

advertising belt mounting;

Installation of internal illumination and speaker system - upon agreement.

If you order more than 5 articles the price may be reduced up to 50%

We provide Customer Support you can count on.
"Flowers" &"Heart"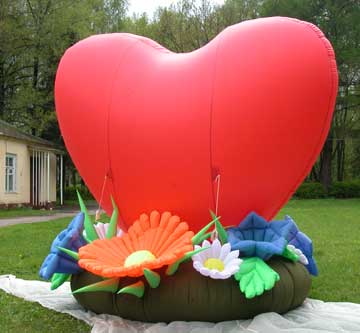 ---




Inflatable bouncies and fun slides for kids are commonly used at festive events, in recreational zones and big molls, etc.

Archs protect stage from perspiration, brightly decorate and create joyful atmosphere at any event.


Article

Dimensions (m)

Weight, (kg)

Price, EURO

Bouncies

PK-B3,3

3,3х3,3х2,2

50

1200

PK-B5

5,0х5,0х5,0

80

1700

Fun slides

PK-G6

6,0х3,0х4,0

70

2100

Arch

PK-E14

14,0х7,0х7,0

85

3500

---




Special-shaped (Characters) cold air inflatables





Special shape cold air nflatables are widely used for products and services promotion.
Special shape cold air nflatables are widely used to create holiday atmosphere. Such special shapes (characters) as "Santa Claus" "Snowman", "Snow Maiden" and other folk tails characters won public confidence a long time ago. "Finish Arches" and festive "Garlands" successfully supplement sport and entertainment events.


---

Cold air inflatable

Height (m)

Price EURO

Axially symmetric

3

1000-1500

5

1500-2500

and more

and more

Nonstandard solutions

Up to 10 m and more

It is defined by complexity of a shape and by the terms of exploitation

Frame inflatable

up to 10 m and more

It is defined by complexity of a shape and by the terms of exploitation

Final cost is set upon agreement with customer and may be increased or reduced.
VAT is not included.